What is it about COWBOYS anyway?
Standing there all sexy like and looking like western wiseguys! Is that what's so attractive about them? They have a silent power?
Oh, well, o.k., I can see they've got the good looking bodies going on...I ain't dead yet for Pete's sake, but...what is it that draw a woman like a fly to ....well, ya'll know the saying....
And yes I can see they're all good looking men....but it's the hat that does me in I think.
Nothing as sexy as that hat! When they wear it low you think powerful, sexy and dangerous. When they wear it back on their heads you think cute, funny and sweetie enough to eat. Find a cowman wearing it any other way he isn't a cowboy but a city folk trying to look like a cowboy!
There's just something about a cowboy hat that makes the man....
or is it the man under the hat that makes my legs weak? ;-)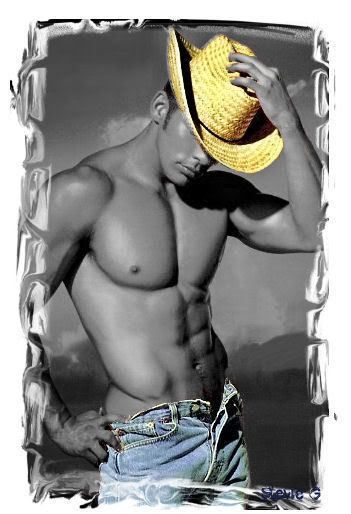 Then again...a lot can be said about jeans on a man...what is it that makes jeans sexy on a cowboy? Is it the way he wears them without a shirt...ever notice a real cowboy never wears a T-shirt....100% cotton shirt with snap buttons and when he's wearing it it's only buttoned half way up...yummy! He always leave a little something for the lady's view...as if his jeans don't show us enough. LOL
As the music of Kid Rock's "I wanna be a cowboy baby" rock through me head I have to wonder...what is it about cowboys that's so attractive?
Is it the way he handles his horse...or all those muscles? Is it his sexy over confidence that sways a girl? How is it a cowboy gets by with all that cockiness and other guys can't?
Is it the romantic yet innocent way a cowboy looks at a girl that makes her lose her mind? Or the way he speaks...soft, yet so self assured "he will have you" that makes the woman melt on the spot?
A lot can be said about his boots too...something very sexy about them...it could be the leather or the heel, I'm not sure but they sure do make the cowman look ready to protect the weaker sexy in a minute....they give the cowboy a seductive kind of walk too! Now how's a girl to resist all this temptation?
OH, OH...and that coat! Did you ever see such a provocative garment...reminds me of a knight's cape...a cowboy of the past! Can't miss a rainy day in Texas!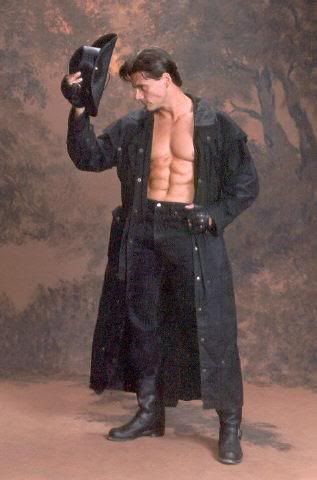 And most cowboy's have such kind manners (there's one or two I know *coughs* that are rogues) but most are so sweet talking. A girl can't help but be enticed...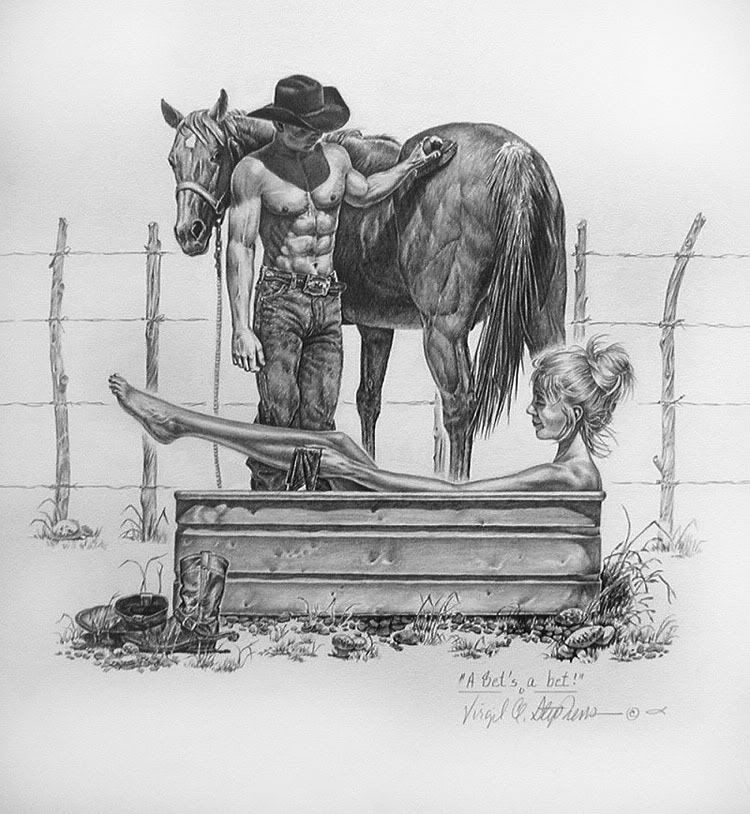 I did know a cowboy (whom I won't name) who was kind enough to let me use his tub to wash up in...once...but he turned out to be a devilish sort...got me IRISH up something fierce, he did. Then thought to tame me temper by showing me his pet snake...being the city girl I am, I'm not sure if snakes look like that, but I can sure say it was huge! Didn't think snakes got that large!
But what's a city girl know about snakes.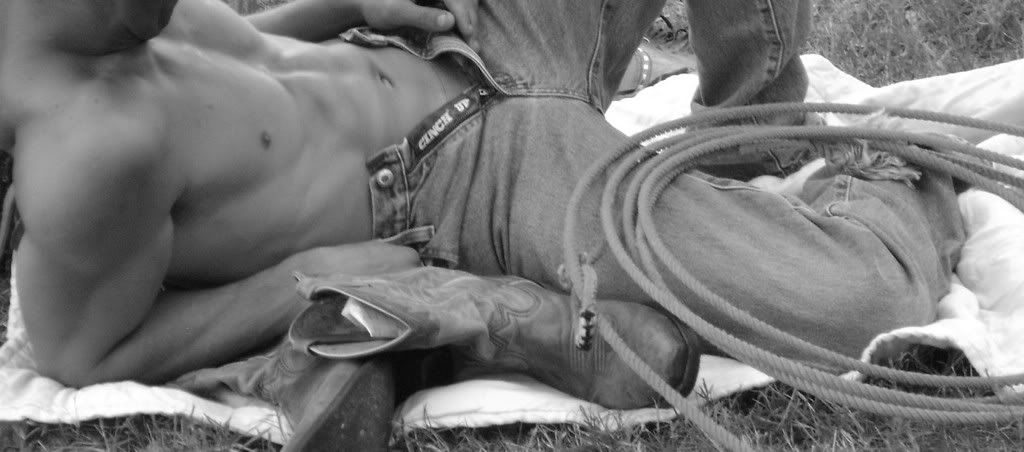 And another thing...cowboy are always prepared...gosh, it's surprising just how much they can put in their bedroll! They never ask a girl to put anything in her purse!
Let's not forget how talented cowboys are with a rope...and what guys, other than a cowboy, can make work gloves look sexy? Just look at this guy below! Notice his hands!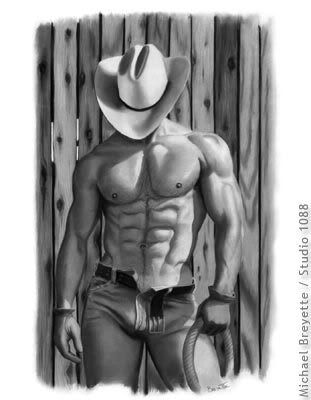 SKIN TIGHT!
Huh, girls! I'm talking about the gloves. Keep your minds focused....Teheheeheheehe
Or maybe what's so sexy about a cowman is the romance that one day he'll ride off into the set set with you in his arms....and keep you safe from all those bad snakes out there in the wild, wild, west.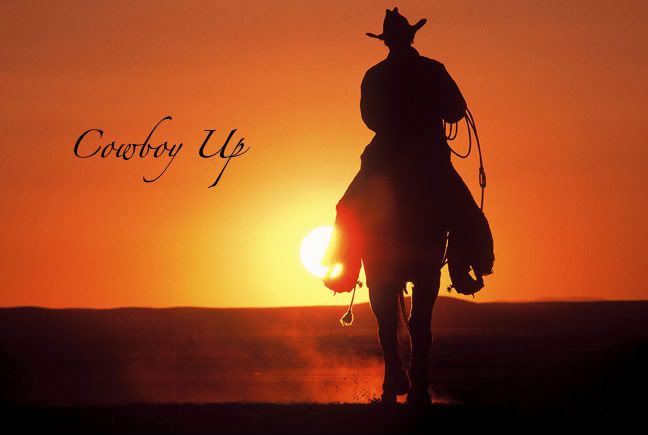 ;-D
Hugs